Bible Studies at Grace

Sunday Morning Bible Study
Sunday mornings after worship, we have an hour long session covering a variety of topics.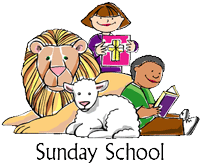 Sunday School for youth
Grace Lutheran Sunday School meets every Sunday morning during the school year from 10:30 - 11:30 am. We have a wonderful program that involves children 3 years old and up to the 8th grade and welcome visitors to join.

Senior Youth Bible Study
Senior youth meet Sunday mornings in the Youth Room from 10:15-11:15 am during the school year for a variety of studies with a focus on life application.

Gals of Grace Bible Study
We meet every second Tuesday of the month in the Fellowship Hall

Women's Book Study
Liturgy of the Ordinary: Sacred Practices of Everyday Life
This book by Tish Harrison Warren and Andy Crouch will be read and discussed from June 2019 through May 2020, meeting once a month on Thursdays, (twice in August), and skipping December.
We will meet from 6:30 to 8:00pm at the Poole home. If you wish to join, please order a copy of the book on your won, or let Ruth or Chris know you need help getting one. Discussion starts June 20th.

Breakfast Bible Study
Bible Breakfast: Wednesday's morning 6:30-7:30 am at Grandma's Kitchen
1514 N Broadway, Rochester, MN.