Bible Studies at Grace

Sunday Morning Bible Study with Pastor Heidorn
Each Sunday morning after worship, Pastor Heidorn leads an hour long session covering a variety of topics.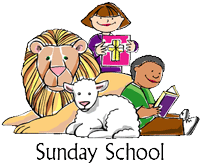 Sunday School for youth
Grace Lutheran Sunday School meets every Sunday morning during the school year from 10:30 - 11:30 am. We have a wonderful program that involves children 3 years old and up to the 8th grade and welcome visitors to join.

Senior Youth Bible Study
Senior youth meet Sunday mornings in the Youth Room from 10:15-11:15 am during the school year for a variety of studies with a focus on life application.

Women's Bible Study
Out of Nothing: The Word, Creation and Faith
In this Bible study, Pastor Steve Misch considers theories of evolution, the plausibility of random chance, man's spirtual and physical nature, and how God's creation and salvation are intrinsically linked in the person of Jesu Christ.
Join us Sunday mornings at 10:30 am to watch a short video and join in discussion. The study guide and additional resources are available online here

Breakfast Bible Study
Bible Breakfast: Wednesday's morning 6:30-7:30 am at Grandma's Kitchen
1514 N Broadway, Rochester, MN.